Karachi is a bustling metropolis and the largest city in Pakistan. It is famous for its diverse culture, rich history, and beautiful landmarks. If you're planning to visit Karachi during the Eid holidays, there are several places that you can explore to make your Eid memorable. 
Places to Visit in Karachi During Eid Holidays
Here are some of the top places to visit in Karachi during the Eid holidays:
Clifton Beach
Arena
Mohatta Palace
Port Grand
Frere Hall
Cinema
National Museum of Pakistan
Empress Market
Chaukhandi Tombs
Bahria Adventure Land
Clifton Beach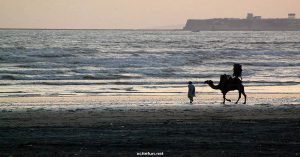 Clifton Beach is one of the most popular tourist spots in Karachi. You can stroll along the beach or simply relax and enjoy the view. There are also several restaurants and food stalls near the beach where you can grab a bite. 
Being easily accessible, the beach is much more crowded during the Eid holidays. If you are taking the kids along, be sure to keep them in your sight. The main attractions of the beach include:
Shore Walk
Camel Riding and Horse Riding
Beach Buggy
Parks in Clifton
Food
Shopping
China Port
Location: Sea View, Karachi.
Arena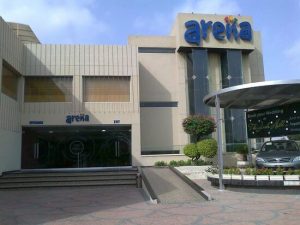 One of the best places for an Eid outing is Arena. Its entertainment and sports complex is situated on Main Karsaz Road, near Bahria Auditorium. Several activities are available at Arena to keep you occupied if you're searching for an action-packed day, including Rock Climbing, Bowling, Rodeo Bull, Indoor Cricket, Pool Mania, Gaming Zone, and many more.
Location: Karsaz Faisal Cantonment, Karachi.
Mohatta Palace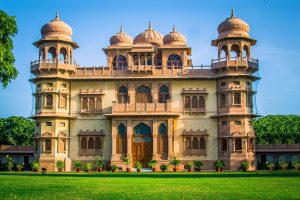 Mohatta Palace is a stunning museum showcasing Karachi's history and culture. The palace was built in the early 20th century and has now been converted into a museum. You can explore the beautiful architecture and artwork inside the palace and learn more about the history of Karachi.
Location: Block 5 Old Clifton, Karachi.
Port Grand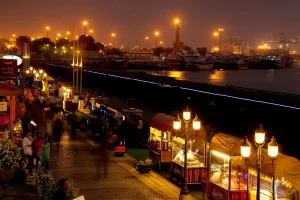 Port Grand presents the story of Karachi's rich cultural history. Built near the water's edge of the Native Jetty Bridge, which links Keamari to the Karachi Port Trust in the nineteenth century. It features numerous attractions, including a diverse food area, a lovely walk, a recreation space, and roadside sellers. 
Location: Opposite PNSC Building, West Wharf, Karachi.
Frere Hall
Frere Hall is a beautiful colonial-era building built in the mid-19th century. It's a popular spot for picnics and outdoor events, and several art exhibitions and cultural events are held here throughout the year.
Location: Fatima Jinnah Road, Saddar Civil Lines, Karachi.
Cinema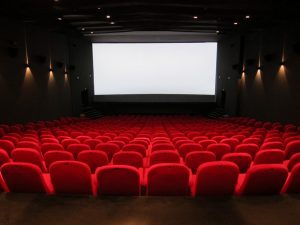 People in Karachi have always enjoyed and embraced good cinema. This Eid, the cinemas in Karachi are showing some really good Pakistani movies as well as Hollywood movies that are releasing on the occasion of Eid. 
Locations: 
Cineplex Atrium Mall, Karachi
Neuplex DHA Cinema, Karachi
Cinepax Ocean Mall, Karachi
Mage Multiplex, Karachi
Cinegold Plex, Karachi
Neuplex Askari IV, Karachi
The Arena, Karachi
Capri Cinema, Karachi
National Museum of Pakistan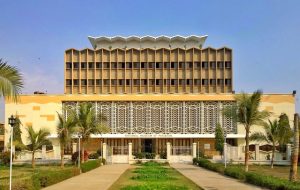 The National Museum of Pakistan is a great place to learn more about the history and culture of Pakistan. The museum has many artifacts, including ancient coins, pottery, and weapons. You can also see exhibits on the history of Karachi and the Indus Valley civilization. If you are a fan of museums and history, then you can visit this place in Karachi during the Eid holidays as it is open. 
Location: Shahrah-e-Kemal Ataturk, Saddar Karachi.
Empress Market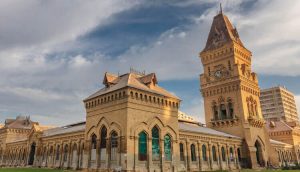 Empress Market is a popular shopping destination in Karachi. It's a bustling market that sells everything from fresh produce to clothing and souvenirs. You can explore the market, haggle with the vendors, and pick up some unique items to take home.
Location: Near Rainbow Center, Saddar, Karachi.
Chaukhandi Tombs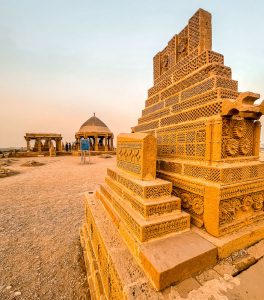 Chaukhandi Tombs is a historical site located on the outskirts of Karachi. The tombs date back to the 15th century and are known for their unique architecture and intricate carvings. It's a great place to visit if you're interested in history and culture. When sightseeing in Karachi, don't neglect the graveyard because there is a lot to learn there.
Location: Landhi Town, Karachi.
Bahria Adventure Land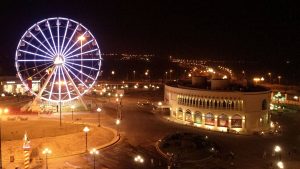 Given that Eid is a holiday that fosters connection. Bahria Adventure Land is a terrific place to spend this Eid with your family and friends to remember the day. Modern rides at this adventure park will provide you with a thrilling experience. 
Location: Super Highway, Bahria Town, Karachi.
These are just a few of the many places to visit in Karachi during the Eid holidays. Karachi has something to offer everyone with its rich history, vibrant culture, and beautiful landmarks.