Are you a fan of Italian cuisine and wondering where you can get the best Italian food in Islamabad? Well, we are here to solve your issue, Tuscany Courtyard is one of the best Italian cuisine restaurants in Islamabad. If you are in Islamabad, this place is a must-try for you because of the taste of appetizing Italian cuisines along with the soothing and very elegant ambiance. 
Tuscany Courtyard Islamabad
The restaurant is located in the main Islamabad and has a very good image among visitors. The name of the restaurant is inspired by the Italian place named Tuscany. 
Contact Number
If you want further information regarding the place, menu, or reservations, kindly call on the given number:
Address:
If you want to physically visit the place and enjoy the scrumpalicious food by yourself then follow the address given below:
No. 4, Kohsar Market, Street 10, Islamabad.
Opening and Closing Hours
Monday to Sunday: 8:00 am to 12:00 am.
Tuscany Courtyard Menu
The menu of Tuscany Courtyard entirely includes Italian dishes such as Thin crust pizza, Panninis, Steaks, Sandwiches, Pasta, and Burgers. However, the menu also includes a wide range of Check, Beef, Seafood, and Thai cuisine that are equally delicious and mouthwatering. The freshly baked dessert from the menu will blow your mind and taste buds, and if you are a sweet-toothed person then you must try their desserts and chocolates. If you are on a Keto diet they also have a separate Keto Menu so that you don't feel left out from the rest of the crowd. 
Breakfast At Tuscany Courtyard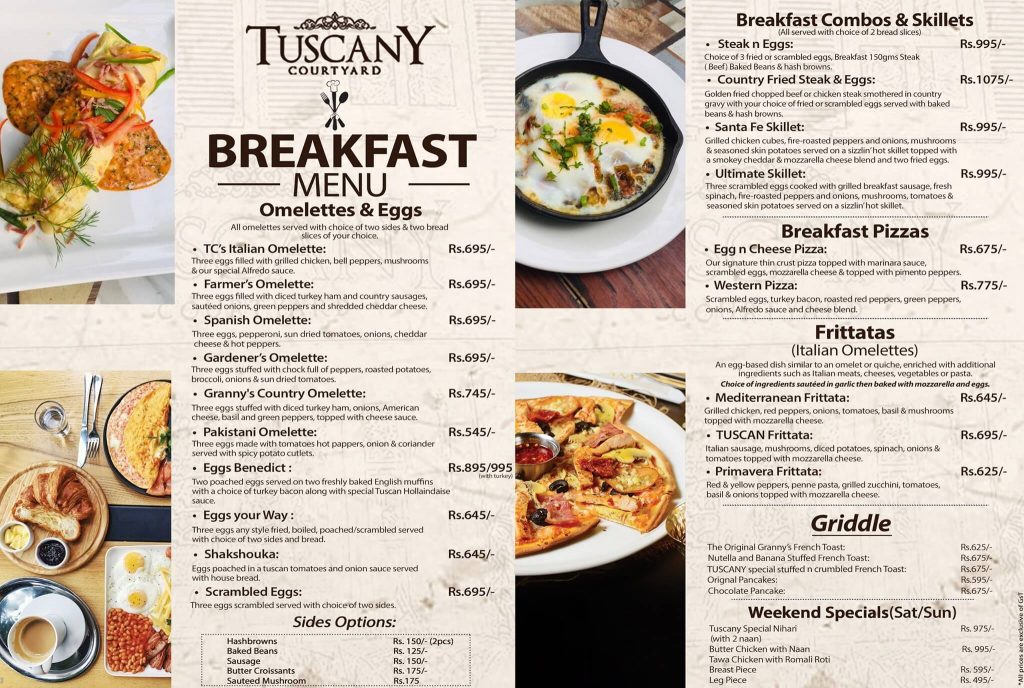 It is such a tough decision to decide what to eat in the morning, and the same old traditional breakfast is boring; therefore, Tuscany is presenting a whole menu of breakfast for your morning cravings. The menu includes a variety of omelets, Steaks, Breakfast Pizza, Frittatas, Variety of toast, and on weekends you can get Desi Breakfast as well.
Must Try Dishes Of Tuscany Courtyard
Although the entire menu is toothsome some of the best dishes on the menu include:
Beef Carpaccio
Thin crust Italian specialty pizza comes with the choice of whole wheat or white crust.
Polo Passanos
Grilled Chicken Caesar Salad
Fettuccine Alfredo
Spicy Fettuccine
Penne Mozzarella
Penne Arabiata
Wild Shiitake Mushroom
Schezwan Prawns
Hot Fudge Skillet Brownie
Butter Pudding
You can also try the chef-recommended menu if you can not decide what to eat.
Hi Tea At Tuscany Courtyard

Tuscany also offers a great menu of Hi-Tea. The menu of Hi-Tea includes Drinks, Soup, Salad Bar, Cold  Mezzeh, Main Entree, Chart Corner, and Desserts. The timing of Hi-Tea buffet is from 4 pm to 7:15 pm, which is perfect timing for lunch as well.
Ambiance of Tuscany Courtyard
The Ambiance of the Tuscany courtyard is more than amazing, and it is located in a 3 story building. It is surely a treat for your eyes, and for your stomach, the outdoor dining is as amazing as indoor. The area will give you a fresh feeling because of the architecture and design.
Reviews of Tuscany Courtyard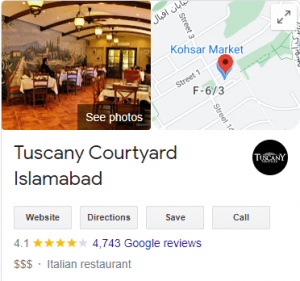 Tuscany Courtyard has 4.1 stars according to Google ratings.
Dine At Tuscany and Freshen Your Tastebuds
Let's dine in Tuscany today and refresh your taste buds with all their scrumpalicious dishes. Tell us in the comments below about your favorite dish at Tuscany?.